The Perineum, Anus and Prostate Gland as Erogenous Zones
Tweet
Advertising disclosure: This content contains affiliate links and sponsored product placements. That means that if you make a purchase through one of these links, we receive a commission. See our Advertising Disclosure page for more info.
The penis and scrotum (the "balls") aren't the only erogenous zones for men. The perineum, anus and prostate gland (the "P spot") are highly sensitive and responsive pleasure zones that many men haven't discovered yet. Exploring them can open up a whole new world of pleasure and intimacy for men and their partners. As men get older, they also need more tactile stimulation for erection and/or orgasm. Some men find that stimulation of these erogenous zones helps with that journey.
If you are new to the idea of perineum, anal and prostate stimulation, this basic guide will be a good starting point.
The Perineum
The perineum is the skin between the scrotum and the anus. It's very highly sensitized with pleasure nerve endings. Many men enjoy this area being gently stroked and/or having firm pressure applied during sex.
Aside from using the fingers, there are other ways to stimulate the perineum. You can use a finger vibrator or a small external vibrator (often called a "bullet") for more intense, prolonged stimulation.

Tango by We-Vibe - Blue
There are also vibrating penis rings that are specially designed to stimulate the perineum. The We-Vibe Verge is a good, quality example of this type of product. The soft silicone ring has a vibrating "arm" that extends down to stimulate the perineum hands-free. It can be used for solo enjoyment or during partnered sex.

Verge by We-Vibe
The Anus
Some people are uncomfortable with the idea of anal sex or anal stimulation, and with age, it may seem even more taboo. The truth, though, is that many adults of all ages, genders and sexual orientations enjoy it.
Why? Similar to the genitals, the anus is saturated with a high concentration of pleasure nerve endings. Light anal touch, gentle massage and pressure, and gentle insertion triggers these nerves and can provide pleasure. In addition, the pelvic floor muscles, which contract during orgasm, form a figure-eight around the genitals and anus. Both genital and anal play stimulate these muscles, often adding to the pleasure of orgasm.
Wait, so there are other types of anal sex than penis-anus intercourse?
Yes. That's one form of anal sex, but not the only form or even the most common. The most common technique is anal touching, whether during masturbation, intercourse, or oral sex. Anal Pleasure and Health, a Guide for Men, Women, and Couples, Morin, 2010, is a useful resource for those interested in exploring the pleasures of stimulation of the anus and the prostate.
Anal penetration can be from a penis, yes, but also from dildos, prostate massagers, anal beads, anal plugs, or other toys. For example, the practice of anal penetration using a strap-on dildo (sometimes called "pegging") is enjoyed by men and women alike. The following are examples of anal plugs and pegging strap-ons.

Lovehoney Classic Silicone Extra Petite Beginner's Butt Plug

Lovehoney Butt Tingler 10 Function Vibrating Butt Plug 3.5 Inch

Tantus Beginner's Unisex Vibrating Strap-On Harness Kit (6 Piece)
Is enjoying anal sex an indication of being gay?
No. Sexual orientation has to do with who you're attracted to, not the kind of sexual acts you enjoy. There are many straight men who enjoy anal stimulation and penetration (from a dildo, prostate massager, anal plug, anal beads, or other toy). There are also gay and bisexual men who do not enjoy anal sex and are intimate with their partners in other ways. Many women enjoy anal sex—giving and/or recieving.
If my partner and I want to try anal sex, how should we start?
The first step is to talk and make sure you're both on the same page about the types of anal stimulation you're comfortable with and want to try. Anal massage? Light fingering? Toys? Penetration or no penetration? (This is true of any sexual activity, not just anal sex.) These conversations are best had ahead of time, not when you're in the midst of sexual activity or just about to start. When you do start experimenting with anal play, gentleness, slowness and good communication are the order of the day.
Take a look at our Beginner's Guide to Anal Sex for a good primer on lubrication, cleanliness, techniques/methods, and safer sex practices. Here are a few highlights:
You will need lubrication and plenty of it! The anus does not self-lubricate like the vagina.
Don't touch the genitals after touching the anus—this can lead to an infection. This goes for toys, too. Thoroughly wash your hands and toys before moving from the anus to genitals, or use condoms or gloves.
There are STIs that can be spread through anal sex, including HIV, gonorrhea and genital warts. Unless you are 100% certain your partner is STI-free, you need to use condoms, just as you would with PIV (penis in vagina) sex.
If you're using toys for anal penetration, always make sure that the design is specifically meant for anal use. Anal toys should be designed with a flanged or wide base that prevents them from accidentally slipping all the way into the rectum. Always choose quality products from trusted brands that have your sexual wellness as their priority.
The Prostate
The prostate gland is about the size of a walnut and is located two to three inches inside the rectum on the belly side of the body. When discussed in the context of sexual pleasure, it is sometimes called the "P-spot."
The prostate gland has two functions:
Production of the transport media, semen, for sperm
Prevention of the mixture of semen and urine
Many men don't think about their prostate gland unless it is giving them a problem. However, the prostate can be a source of great sexual pleasure! The nerves that allow for an erection pass along each side of the prostate gland. When the prostate is stimulated, even during a doctor's exam, it may lead to an erection simply because the nerves are stimulated.
How to massage the prostate
Erotic prostatic massage evidence exists in pottery from the diverse and ancient cultures of India, China, Japan, Greece and Peru. Erotic massage enhances and intensifies male orgasm.
The prostate can be massaged with firm pressure on the perineum or by direct massage through the anus. It can be stroked with gentle pressure.
Besides the finger, prostate massagers can be used. Again, these need to have a flange or wide base to prevent accidental slippage into the rectum, and should be of high quality with body-safe materials. Many of these toys can be used during partnered sex or enjoyed solo.
We-Vibe Vector
The vibrating We-Vibe Vector has an adjustable head and flexible base that target both the prostate and perineum in comfort. It offers gentle pressure and deep, rumbling vibrations. A remote control is used to cycle through 10+ stimulation modes. This prostrate massager is waterproof and made of soft silicone.

Vector by We-Vibe
LELO LOKI
The vibrating LELO LOKI is specially shaped and angled for prostate massage. It is smooth and curved, with a stability ring to help with placement. It has six variable vibration settings and is rechargeable and waterproof. LELO also offers several other luxury prostate massagers, all of which are of the highest quality.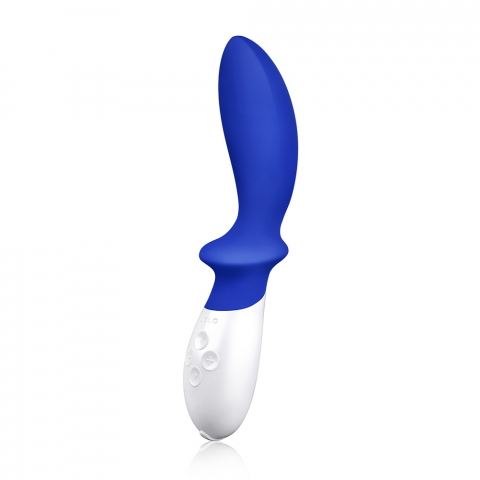 What is the take-home message?
The perineum, anus and prostate are highly sensitized erogenous zones. Exploring them can open up a whole new world of pleasure.
Anal play has been part of human sexuality for centuries. It is enjoyed by adults of all ages, genders and sexual orientations.
Penis-anus intercourse isn't the only form of anal sex—it isn't even the most common. Anal touch, gentle massage, and the insertion of a lubricated finger or toys (prostate massagers, dildos, plugs, beads) are all forms of anal sex that people enjoy.
Make sure that any toys are body-safe, high quality, and specifically designed for the anus with a wide or flanged base.
There are solo and partnered ways to enjoy perineum, anal and prostate play. For partner play, both partners must be comfortable. Communicate ahead of time, and check in often during the activity.
Cleanliness, lubrication and protection are fundamental. Refer to our Beginner's Guide to Anal Sex.
Advertising disclosure: This content contains affiliate links and sponsored product placements. That means that if you make a purchase through one of these links, we receive a commission. See our Advertising Disclosure page for more info.