Sex Aids & Toys for Senior Women: How to Choose One, and Why You Should
Tweet
Advertising disclosure: This content contains affiliate links and sponsored product placements. That means that if you make a purchase through one of these links, we receive a commission. See our Advertising Disclosure page for more info.
Sexual activity, solo or partnered, is a vital part of healthy aging. Orgasms are amazingly effective for reducing anxiety and depression and increasing your sense of wellbeing.
However, orgasms are harder for women to reach after menopause due to reduced pelvic blood flow and less sensitivity. Because of this, older women may need prolonged manual stimulation—yet arthritic fingers and wrists may tire. Stamina may be reduced. Sexual aids (sex toys) can help.
Find out why more and more senior women are discovering the benefits of sex toys, and how to choose one.
What are some of the sexual challenges senior women face?
Sexual dysfunction reportedly affects up to 40% of American women. It is not uncommon for women in all age groups, including those 50 and older.
There are four categories of sexual dysfunction for women:
lack of desire
arousal (inability to obtain or maintain sexual excitement)
orgasm (difficulty, delay or absence of orgasm in spite of arousal)
Let's focus on the last two categories. What is the primary cause of problems with arousal and orgasm? It is decreased blood flow to the genitals, for which there are many reasons:
menopause
abnormal levels of cholesterol
pelvic trauma
pelvic surgery
difficult childbirth
smoking
How can these problems be treated? For many women, sexual dysfunction can be improved with mechanical devices, aka sexual aids or adult toys.
These devices have entered the mainstream to help with sexual arousal, orgasmic disorders, and to enhance female sexual response. Serious academic work is being done to investigate the effectiveness of these devices.
How can sex toys (such as vibrators) help?
Vibrators increase blood flow to the pelvis and provide the prolonged clitoral stimulation many women need for arousal and orgasm. Many older women also require more intense stimulation due to less sensitivity, which vibrators can deliver. They can be used solo or with a partner.
We use hearing aids to maintain our ability to hear, glasses to maintain our visual acuity, pacemakers to maintain heart function, and canes to walk with more stability. More and more seniors also use sex aids to maintain their sexual intimacy.
If you don't fold or unfold as easily as you once did, if your hands and fingers are affected by arthritis, or if your stamina is shortened by age or chronic illness, sex toys are credible aids to achieve orgasm and enjoy all of its positive benefits.
What are the different types of sexual aids/sex toys for women? How are they used?
There are two main types of adult toys for women: vibrators and dildos. Both can be used with a partner or solo. We'll provide quality examples of each type.
Vibrators
Vibrators do just that—they vibrate! They are sometimes called massagers or stimulators. They come in several varieties:
Bullet vibrators are small—about the size of a finger. They are designed for pinpoint stimulation, and can be used by any gender on the clitoris, nipples and other external erogenous zones. Most are very simple to use, with a single button that cycles through different vibration intensities and patterns. They range from inexpensive models powered by watch batteries up to rechargeable models that pack a lot of power into their small size. We recommend the later as they produce stronger vibrations and don't require you to fiddle with tiny batteries. The We-Vibe Tango is an example of a very powerful, intense bullet vibrator.

Tango by We-Vibe - Blue
Clitoral vibrators are self-explanatory—they are external vibrators that stimulate the clitoris. Some bullet vibrators are also marketed as clitoral vibrators. There is a wide range of designs available. Some, like the We-Vibe Touch, have soft curves to nestle over the clitoris and provide diffuse, rumbly vibrations, while others have a tapered tip to provide intense pinpoint stimulation. Others are wands that provide broad stimulation and can be used for massage elsewhere on the body. Experiment with the types of vibes you enjoy most!

Touch by We-Vibe
A new type of clitoral stimulator has come on the market that uses air to create a feeling of suction around the clitoris (like a sucking sensation). The Womanizer line is the best known. Some women find they reach orgasm more quickly and reliably with a suction clitoral stimulator rather than a standard clitoral vibrator. These toys can have a bit more of a learning curve when it comes to placement over the clitoris.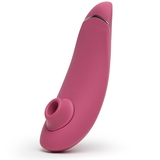 Womanizer Premium Smart Silence Clitoral Stimulator Pink
G-spot vibrators are for internal use. They have a distinctive curved shape and tip that massages the front (belly side) vaginal wall when inserted. The vibrator motor is typically in the tip, rather than the base. Some G-spot vibrators simply vibrate, while others combine a thrusting, rotating or "come here" waving motion that mimics the feeling of fingering.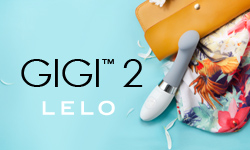 Rabbit vibrators are for simultaneous stimulation of the G-spot (internal) and clitoris (external). They are called "rabbit vibrators" because the clitoral stimulator is often shaped like rabbit ears. Rabbit vibrators have long been popular because they provide the combination of vaginal and clitoral stimulation many women find pleasurable.

Lovehoney Power Play 10 Function Silicone G-Spot Rabbit Vibrator
Dildos
Dildos are phallic shaped and are used for penetration/internal stimulation. They may look realistic or not. Some come with suction cup bases, while others are meant to be held in the hand. Some fit into a harness or special underwear for strap-on sex.
Technically, dildos do not vibrate, but you may see some internal vibrators (like G-spot vibrators) also referred to as dildos. If you see a product marketed as a dildo, you will know that it's meant for internal use.

Desire Luxury Weighted Curved Silicone Dildo
How to choose a first sex toy
Whether you buy a sex toy in an online store or a brick-and-mortar shop, be prepared to have some fun with it. You might share the experience with your partner or shop with a friend. Relax, laugh and enjoy! Don't worry about making a mistake—just like starting an intimate relationship, it can take time to discover what you like and don't like.
It helps to start off with something small, basic, no bells and whistles...and always made with safe materials (such as body-safe silicone) and quality construction. Some low-priced toys are made with cheap plastics that aren't good for the vulva and vagina. Don't be afraid to ask questions, whether it's from store staff or using an online help feature, like our Ask the Experts feature.
Start with a clitoral vibrator—most women are more likely to orgasm from clitoral stimulation than vaginal. Penetrating toys can come later.
The We-Vibe Tango and We-Vibe Touch shown above are both excellent choices for a first vibrator. Here are a few more:
We-Vibe Wish
Unlike a bullet vibrator that offers pinpoint stimulation, the We-Vibe Wish offers deep, powerful, broad sensations. It is designed to feel like deep waves of pleasure. You can enjoy this plush, soft vibrator all over the body. Wish has 10 vibration modes and is waterproof, whisper-quiet and rechargeable.

Wish by We-Vibe
We-Vibe Wand
The We-Vibe Wand is a strong and powerful vibrator, yet is ergonomically designed to be easier to handle than some of the bigger wands. It offers deep, broad sensations rather than pinpoint intensity. The wand head is flexible rather than rigid like some wands, so it moves with you. One-touch control makes it easy to move through the 10 vibration modes. One of the best things about this wand is that it comes with two attachment heads, so you can experiment with different sensations without buying a separate vibrator. The wand head is universal, so it can be used with all standard attachment heads, too.

Wand by We-Vibe
LEO NEA 2
The LELO NEA 2 is a beautiful compact vibrator that fits comfortably in the palm. It can be used for external stimulation alone, and it can also be nestled between bodies during partnered lovemaking for extra clitoral stimulation. There are eight stimulation patterns that can be easily accessed using only two buttons. If noise level is a concern for you, the NEA is a great choice as it is very quiet, yet powerful. This vibrator is rechargeable and waterproof.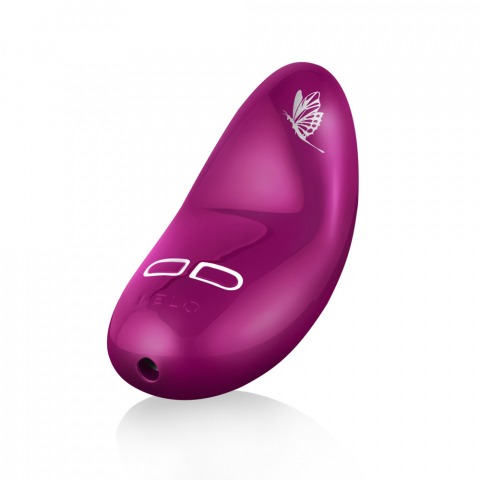 Sex toys can be used with a water-based lubricant for more comfort and pleasure.
What is the take-home message?
For many women, sexual dysfunction can be improved with sexual aids or adult toys. They're also pleasurable and just a lot of fun! Don't be afraid to try—the best sex you've ever had could be waiting for you.
References
Billings, K.L., "The role of mechanical devices in treating female sexual dysfunction and enhancing the female sexual response", published in the May, 2002 issue of Word Journal of Urology